Dapplepatch


Alliances
Current Clan
StarClan
Past Clan(s)
None
Life
Age
57 moons
Status
Deceased
Debut
StarClan/Roleplay
Death
Unknown
Names
Names
Dapplepatch
Family
Mother
Unknown
Father
Unknown
Littermates
None
Mate
Foxtail
Kit(s)
Birchstar, Falconstripe
Education
Mentor(s)
None
Apprentice(s)
None
Fanfiction Appearances
Living
None/Unknown
Deceased
None
Relationships
Sexuality
None
Best Friend
None
Crush
None
Worst Enemy
None
Alliances
Roleplayer
None
Dapplepatch
is a dappled calico she-cat with bright blue eyes.
Description
Edit
Appearance
Edit
Her fur is dappled with a variety of colors, mainly orange, black, and white. Smaller patches of a lighter black rest beneath her muzzle, and on the tip of her ears. Darker orange patches surround the lighter ones. Her bright blue eyes give her quite the delicate appearance, matching in with her beautiful-coated pelt. 
Her ears are a soft pink, just as well as her nose. Her soft pink pads give her the ability to run swiftly without pain, and her fur is smoothe, and hard against her pelt. She has a broad covering, and is well-fit for her age. 
Character
Edit
Dapplepatch is a very sweet, kind, loving she-cat, who would more than willingly give up her life for her family. She is a very hostile she-cat around non-clan cats, especially DarkClan or any rogue. Dapplepatch was very curious as a kit, and would always explore. Though, somettimes she is very shy. 
Coming Soon
Not Yet Seen
Mate: 
Sons: 
Relationships
Edit
Coming Soon
Coming Soon
Life Image
Edit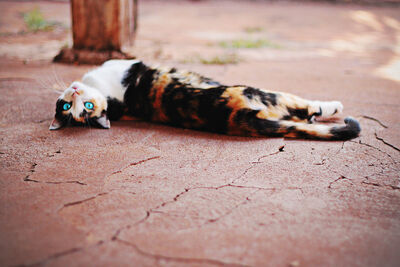 Character Pixels
Edit